D
r. Katrina Warren is looking for an Aussie dog and cat to be the new faces of Advocate!
Vote My Pet is a national competition to help convince Dr. Katrina Warren, a panel of judges, and the Australian public that your pet has all round star appeal.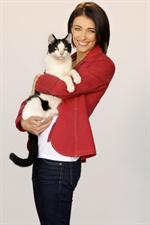 Dr. Katrina Warren is the Australian veterinarian, best known as the host of Housecat Housecall, the reality show for cat lovers. It airs on Animal Planet on Saturday mornings. If you haven't seen it, and you're a cat owner, you might want to catch an episode or two!
Her pets are retiring from 'public' life and Advocate is now looking for a cat (and a dog) to replace them in their next national campaign.
To win, you have to convince Katrina, a panel of judges, and the Australian public at large that your pet has all around star appeal. You just register your pet as a candidate, build their election campaign, and impress the judges. It's like Facebook for your cat. The winning cat and dog will become the faces of Advocate in their next National (Australian) Advertising Campaign.
So if you think your pet has what it takes, then register now at Vote My Pet!