Did you ever think you'd see the day that parks were created specifically for man's best friend? A dog park allows your pampered pooch to run and play without a leash in a fence-enclosed environment. In response to a migration back toward urban living, many more pet owners find themselves without a yard and dog parks provide a facility whereby their dog can get his exercise and meet other dogs.

If you're not sure if there's a dog park near you, just Google dog park followed by your location (city and state, etc), and you should find lots of listings. You can also simply type in dog park locations and you'll find many directories and resources pointing you toward dog parks in your community.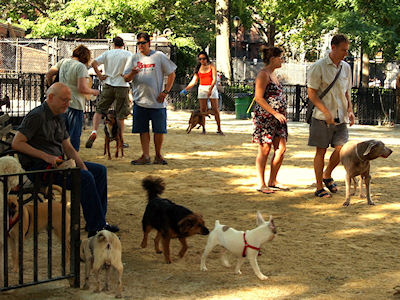 Dog parks, like Tompkins Square Dog Run pictured here on the left, can seem like a Disneyland for dogs in some areas, featuring fire hydrants, water taps, shade trees, ponds, and so forth. And for Fido's family members, there are human benches and tools to scoop and dispose of poop.
Unlike some of their human counterparts, dogs crave canine companionship and like to see other dogs. All dogs, just like all humans, need regular exercise and the dog parks allow them a place to do that.
According to research, dog parks serve several beneficial functions to a community, including, but not limited to:
offering older or disabled people a place to exercise their pets
reducing aggression in dogs by allowing them to play together
promoting responsible dog ownership
dog socialization
It comes with a caution though: a dog park shouldn't be used in lieu of daily walking, but in addition to walking your dog. Experts agree that walking your dog is a form of bonding communication, showing the dog that you are the leader of your pack.
Most public dog parks are run and maintained by the city park systems and are therefore free, but there are also private dog parks that require a membership fee.
As much as we'd all like it not to happen, fights between dogs can break out at dog parks. If the park has someone on duty to set expectations for dog owners, that person can sometimes intervene and require that certain dogs be kept on a leash or even ask someone to remove their dog from the park. Most articles that you read will indicate that while dog parks serve a purpose for dogs, they also serve an even greater purpose for humans and that purpose is to instill more responsible dog ownership and compliance with regulations.
Perhaps dog parks also sprung up because people who don't like dogs were tired of people bringing their dogs to public parks. Some dog owners think it's cute when their dogs run up to strangers to be petted and admired. While cute, and I admit I rather like canine attention when I'm out and about, I know that there are definitely people who do not. Though it's nearly unimaginable to those of us who adore our pets, not everybody likes dogs. So having a separate park where dogs are expected and even welcomed gives dog owners a place to take their four-legged friends without fear of offending anyone.
Some general rules associated with most dog parks, which make pretty good common sense, are:
Dogs must be at least four months old
No more than two dogs per human visitor
No food allowed in the dog park
Owners must clean up after their pets
Research dog parks in and around your area! Many have websites that offer photos, rules, facts, and so on. Most dog parks are open from sun-up to sundown to accommodate those who want to take their dogs before work, during the day, or after work. There's an old saying that, "A tired dog is a good dog." Giving your dog the opportunity to get some exercise and run off some of that energy might make you both happier at the end of the day.


This article was brought to you by Tina Smith of pet-super-store.com, where you can find great deals on pet stairs and pet doors. It was embellished and edited a bit by the editors here at PETSblogs.
Photo Credit on Wikipedia Commons