It's Puppy Time!
From a bundle of love to full-grown canine, Cesar shows how to raise the perfect dog.
(WASHINGTON, D.C. — SEPTEMBER 16, 2009) In five seasons and more than 100 episodes, Cesar has seen every canine case imaginable — red-zone aggression, fearful anxiety and just plain weird. But never before has he shown viewers how they can avoid these problems from the very start! In the sixth season premiere of Dog Whisperer with Cesar Millan: How to Raise the Perfect Dog, Cesar goes back to the basics, adopting four adorable pups and filming them living with him and his pack for their first eight months to show viewers how to avoid problems from the very start.
"I realize I may actually be putting myself out of business with this episode," joked the three-time Emmy nominee. "But I wanted to adopt four different breeds and work with them in my pack from the very beginning, showing that if you prevent bad behaviors in puppyhood, you can steer clear of canine nightmares down the road."
The season premiere is also the documentary companion to Cesar's fourth book, How to Raise The Perfect Dog: Through Puppyhood and Beyond, released nationwide by Harmony Books, a division of Random House, Inc., on Tuesday, October 6.
How to Raise the Perfect Dog begins the sixth season of Dog Whisperer with 30 all-new episodes. This year Cesar also goes international, searching out problem dogs down under in Australia! Plus, he takes a road trip to Texas, works with NASA astronauts, visits "The Biggest Loser's" Jillian Michaels, helps former Guns N' Roses drummer Matt Sorum and much more.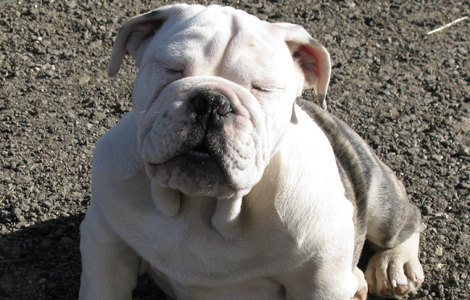 The season premiere begins with Junior, a pit bull pup Cesar hopes will someday assist him with his toughest cases now that his trusted right hand Daddy is nearing retirement. Daddy and Cesar have been a team since Daddy was four months old, and any fan of Dog Whisperer knows Daddy accompanies Cesar on many of his hardest cases — including a visit with Oprah! But with age come limitations. So, in order to ease Daddy into retirement, Cesar adopted the first young puppy for his puppy project — Junior. Daddy and Junior were instantly attracted to one another, and thus Junior joined Cesar's pack.
Next Cesar selects a Labrador pup to join the pack. Southern California Labrador Retriever Rescue brings two labs to Cesar's Dog Psychology Center. Cesar is immediately drawn to the calm, submissive male, whom Cesar slowly introduces to the pack at the center. The pack mentality of all the dogs has never been clearer, as you can see firsthand how — with no human interaction — the pack slowly takes in the new puppy. Cesar eventually names this little guy Marley, after one of the world's most famous bad dogs (the subject of last year's hit movie "Marley & Me," about the life of Cesar's client and friend John Grogan).
For the next two puppies, Cesar selects a miniature schnauzer, Angel, and an English bulldog, Mr. President. The goal is to raise four balanced pups of different breeds, and to make the most of each breed's characteristics. For the next eight months, our cameras are there as Cesar shows viewers how to raise the perfect dog.
Cesar begins by setting rules, boundaries and limitations early on — a mantra familiar to any viewer. As the new pack demonstrates, Cesar isn't the only one setting the rules — it takes only a hint of a growl from Daddy to send Junior, Angel, Marley and Mr. President into Daddy-pleasing mode.
Cesar walks through how to deal with over-excitement, common in many young dogs, and how to overcome this type of behavior from the very beginning using calm, assertive energy. Cesar goes through the important rituals such as mealtime, and how to start them young with a routine. Next up is housebreaking — which can become an owner's worst nightmare, or, if done right — Cesar's Way — comes with no drama.
And of course, no Cesar boot camp would be complete without the all-important ritual of exercise. For the new pups, Cesar looks to swimming as a key element. Surprisingly, all the new puppies take to the water except one — Marley, the only real water breed. Cesar shows Marley how to overcome this fear early.
Finally, Cesar addresses socialization — bringing the new puppies to the dog park — and a message very important to Cesar about spaying and neutering your dogs. We join Cesar as he takes Mr. President to the doctor to get fixed.
At the end of the eight months, Cesar proudly passes Marley, Angel and Mr. President on to new homes. And Junior is a permanent member of the Millan household — and on Dog Whisperer.
About Dog Whisperer
Each episode of Dog Whisperer follows dog behavior specialist Cesar Millan as he goes directly into the homes of dog owners — without any prior information about the dog's case — and documents the remarkable transformations that take place under Cesar's calm, assertive guidance. The hugely popular series has grown into a pop culture phenomenon, including parodies on "South Park" and "Saturday Night Live"; references on popular shows including "Jeopardy!" and Bravo's hit series "Work Out"; appearances on "Oprah," "Tonight Show with Jay Leno," "Martha Stewart," "Today Show," "The View" and "Live with Regis and Kelly"; and a guest star role for Cesar on the hit series "Ghost Whisperer."
The series celebrated its landmark 100th episode in September 2008 with a grand reunion of many of the past guests — and their dogs. Dog Whisperer has also been nominated three times for the Primetime Emmy for Outstanding Reality Program.
About Cesar Millan
With more than 20 years of experience working with canines, Cesar has been called a "Dr. Phil for dogs," and for good reason. He has a unique gift of rehabilitating dogs and training their owners. His talent with dogs first developed on his grandfather's farm in Mexico. Now, at his Dog Psychology Center in Los Angeles, he receives as many as 100 calls a week from owners desperate for help and confronting a crisis with their beloved pets. He is their emergency responder, and often their last resort. Often, the dogs Cesar works with are "red-zone cases" that trainers or veterinarians have told the owners to put down. Cesar believes every dog deserves a chance at rehabilitation before such drastic measures should even be considered. His pack of dogs at the center are largely dogs no one thought should be left alive — and they now live in harmony as part of Cesar's pack, and make frequent appearances on the show.
Millan was made an honorary member of the International Association of Canine Professionals and was presented The Michael Landon Award for Inspiration to Youth Through Television at the 28th Young Artist Awards.
Cesar has published three best-selling books, and launches a new magazine, Cesar's Way, this fall. Other things Cesar include: the first four seasons of Dog Whisperer are available on DVD; Cesar and his wife Ilusion have founded the nonprofit Cesar and Ilusion Millan Foundation, providing financial support and rehabilitation expertise to shelters throughout the United States; Cesar has an exclusive product line available at Petco; and he is giving online seminars, "Sessions with Cesar," an interactive coaching course. Additionally, Cesar's new magazine — "Cesar's Way" — from IMG Publishing is available on newsstands now and will feature celebrity dog stories and everyday dog lovers who have built a lifestyle around their companions.

For more information, visit NatGeoTV.com/DogWhisperer!