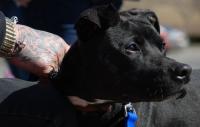 What a "cruel, cruel world" animals live in. Pit bulls have a hard time in the Bronx, chickens are not city animals, and cats are not welcome at all houses. You'll travel all over New York City, the Bronx, and even Rhode Island in It's a Cruel, Cruel World, the first episode in the new NatGeo series, RESCUE INK UNLEASHED.
In addition, you'll meet 8 tough guys who show their loving, caring, and compassionate side . . . especially when it comes to the well-being of animals. Their stories are great. Their love and devotion shine through.
We were lucky to get a pre-screening of the show's episodes and we've got to warn you . . .
Watching this series will give you the urge to get up and help the defenseless animals of your community!

Animals are not always welcome and some are used for recreation. In this episode, which airs on National Geographic tonight at 10pm (EST) you'll meet a stray pit bull named Ebony who needs a home before she is picked up by someone who wants to use her for pit bull fighting. This is a problem in New York City and pit bulls are always the main target. You'll also meet 3 other pit bulls that need to be taken care of while their owner is in the hospital. And just when you think it's all about dogs, you're introduced to some chickens that have found a home, but the city neighborhood is not very fond of them. They want the chickens gone because they are too loud and annoying. Then you'll meet a man who doesn't like cats and is is willing to do whatever he deems necessary to get rid of them.
Rescue Ink is a group of 8 men who have a desire to help these animals in any way that they can. They work with cops and with animal control whenever needed. This is their job and they've devoted themselves to defending the defenseless. They love animals and it shows. But what makes the show so entertaining, obviously, is that these are some real tough guys, and some don't have the best of backgrounds. They look like they'd just as soon kick a cat as pet one. And, of course, they're covered in tattoos, one member from head to toe. (Hence the name Rescue INK Unleashed!)
But it turns out having street smarts goes a long way in dealing with animal abusers. As one of the members says during the show, "Send bad guys after bad guys." And these guys are definitely big and bad and mean. At least on the outside. Inside beats the heart of an animal lover, so they can't be all THAT bad.
Rescue Ink is a great show and we really enjoyed this first episode. Let the kiddos watch! There are several lessons they'll get from the show (and the series). Here's a few things we learned already:
1 good ol' country boy is worth more than 5 big scary tattooed city men when it comes to catching chickens.
What's on the outside may not be what's on the inside. The old adage "you can't judge a book by it's cover" has never been more vividly expressed than on Rescue Ink. Once you get to know these guys you'll see that they have huge hearts and are immensely compassionate towards animals.
Not everyone treats animals the same way you treat animals.
Animals are able to see the TRUE you, the one behind all the "tattoos."
Animals were put on this earth to be our companions, to be our best friends. They were not put here to hurt and abuse. With Rescue Ink around, abused and neglected animals might just have a fighting chance and those of us watching the show just might learn a thing or two.