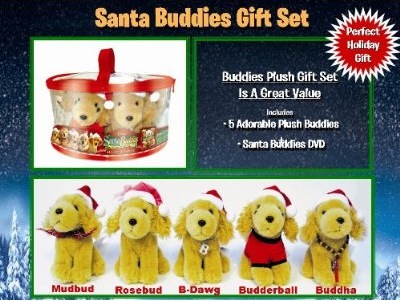 The holiday season is nearly upon us and while getting ready for a Thanksgiving feast, we've decided to host a quick giveaway that will end on the biggest shopping day of the year.
So give this a quick read and grab yourself a chance at a Plush Prize Pack that includes a DVD and these 5 adorable little stuffed animals in our Santa Buddies Giveaway.
This isn't really contest, it's a giveaway to reward 3 lucky, loyal, pet-loving readers just in time for the holidays. We're not choosing the winners randomly from the comments, so be sure to read the blurb at the end.

If you'd like get your hands on a free copy of the DVD plus the 5 plush Buddies, which would make a pretty nice gift for someone on your list if you don't keep it for yourself, all you have to do is leave us a comment. We'll choose three lucky winners on Friday the 27th.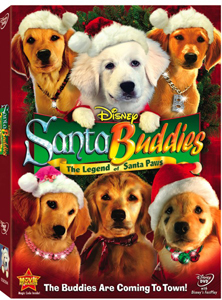 SANTA BUDDIES: The Legend of Santa Paws
Available November 24, 2009
Disney's irresistible talking pups are back in SANTA BUDDIES: THE LEGEND OF SANTA PAWS, a heartwarming, all-new holiday adventure coming to Blu-ray combo pack and DVD on November 24, 2009 from Walt Disney Studios Home Entertainment.
The beloved pups take a fantastic journey to the North Pole in an exciting new escapade featuring more new friends, fun, and teamwork than ever before unleashing a stocking full of holiday cheer with a fun-filled film and plenty of never-before-seen bonus material. Perfectly timed for holiday gift giving, SANTA BUDDIES: THE LEGEND OF SANTA PAWS is sure to be at the top of everyone's wish list!
the trailer . . .

Giveaway Details
For a chance to win this plush prize pack directly from Disney just leave a comment to let us know why you want it. Or tell us who you're planning to give it to. Or tell us how much you love this blog. Or tell us how much you love Disney. Tell us anything you think we ought to know! We'll choose (not randomly select) 3 winners on Friday the 27th.


the fine print . . .
We will alert the winners via the email address left in the comment. Email addresses provided with comment submissions never appear live on this site and are never sold or shared with any third-party. If you win, you'll be asked to provide your full name and shipping address and that information will be shared with a 3rd party to fulfill delivery of the prize awarded. Should you not respond to the notification email within 48 hours, a new winner will be selected.