Dogs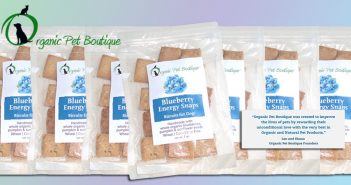 From time to time we have the privilege of trying and testing pet products. The folks at Organic Pet Boutique asked us to sample their Blueberry Energy Snaps dog treats on our staffs pets.
Since the FDA has been saturated with recalls for not only pet food but also pet treats. It has made pet owners all the more concerned on what we are feeding out furry friends. We were more than willing to test a treat that would eliminate the threat of salmonella.
Salmonella is quite unsettling not only for all pets but also for us humans. Pets with salmonella infections may be lethargic and have diarrhea or bloody diarrhea, fever, and vomiting. Some pets will have only decreased appetite, fever and abdominal pain. Infected but otherwise healthy pets can be carriers and infect other animals or humans. Humans exposed can experience nausea, vomiting, diarrhea or bloody diarrhea, abdominal cramping and fever.