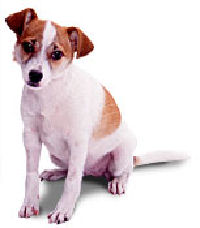 Training your dog how to sit in 4 easy steps.
It's easy to train your dog to sit if you know how to do it correctly.

The key to getting your dog to do what you want is through their stomach. So, purchase bag of very small treats. You want the treats to be big enough to be a reward, but small enough that they are eaten quickly leaving your pup wanting more.
Step #1
You, the treats, and your dog go to a isolated place where you dog won?t get distracted.
Step#2
Hold the treat in the air above your dog where they can see it and say "sit".
Step #3
Wait for your dog to sit. As soon as their butt hits the ground, give them one or more dog treats, but preferably one. At first this will take a lot of work. Once they realize that you aren?t giving the treat up, they will sit. Give it time.
Step #4
Repeat.
Try to do this a few time a day with your dog. Eventually they will begin to associate the word sit with actually sitting, and actually sitting with a treat. After your doggie sits on demand for a while start removing the treat every other time. Soon you?ll have them sitting without any reward on the horizon. This works great for getting them to lay down at night in their dog beds.