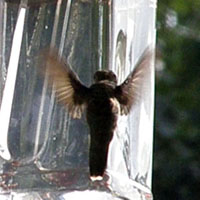 I adore hummingbirds. They're such pretty little creatures to have fluttering around the yard. Every Spring I look at the old note I have stuck to the inside of our recipe cabinet to remind myself of the right sugar to water mix ratio before I make the first batch of food and set the feeders out again. So today I thought I'd share the hummingbird food recipe and how I make a batch.
I'm also including some of my favorite pictures, my favorite place to buy hummingbird feeders, and what I do to keep the feeders clean and nicely filled all Spring, Summer, and Autumn.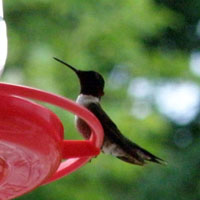 We get lots of visiting hummers every year, beginning with the male birds we generally start to see coming around in March or April. Although you can't see the red of his neck or the vibrancy of his greens, this is actually one of my favorite photos of an early male hummer last Spring. I obviously need to hone my photography skills, and it's nice that they let me go so close to practice taking the pictures.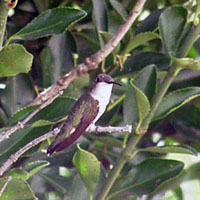 The girls start appearing shortly after we see the first few males. The girls sometimes even chase the males away from the food . . . and they're generally the ones who seem to stay close at hand, even when they're not at the feeder. We catch glimpses of them on distant tree limbs and in a bush nearby our front porch, like this sweet little girl hummer I caught in a picture last July.
If you put a feeder out, it's kind to keep it going so that the little hummers who have found it can actually rely on it as a source of food. They're really trusting little creatures who may even nest near your feeders because of the food source.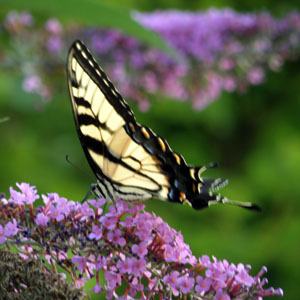 If you're not willing or able to commit to keeping up a feeder, you might be better off to plan and plant a hummingbird garden. Or do both! We have three butterfly bushes and an azalea bush here, and I love to have the feeders, too. Maybe it's time I add a few other plants. I'd like to get my hands on a coral honeysuckle. As a general rule, trumpet shaped flowers tend to attract hummingbirds. Even planting flowers like petunias and impatiens can help attract them to your yard.
How To Make Hummingbird Food
There's no need to buy special, pre-made food, though you certainly could. If you do, just be sure to research the name of the food online before making the purchase. Making the food yourself is as easy as boiling water. You just have to remember the 4:1 ratio!
Water – Fill up a tea kettle or saucepan and boil your water.
Sugar – pure, white, granulated, cane sugar – 1/4 cup for every cup of boiling water you're going to convert into 'nectar.'
I boil a full kettle of water when I set out to make hummingbird food. I don't pre-measure because I'm worried about letting it boil too long and loosing some of what I'd measured. I also find that it's nice to boil water on the stove as opposed to the microwave. I've heard it's important to boil the water to kill off any microorganisms, but I've also heard that you don't have to because they don't come from the water, but are rather transported to the feeders on hummingbird bills. Regardless of the rationale, I like boiling the water to help the sugar dissolve and to be on the safe side.
While the water's coming to a boil, I get out my big glass measuring bowl. Then I measure out 2 cups of sugar and set it beside the bowl. My bowl looks like this and measures up to 8 cups of liquid (perfect):

When the water has come to a good boil, I just pour 8 cups of it directly into the glass measuring bowl and then dump in the pre-measured sugar, stirring to be sure it all dissolves. Then I just wait until it's good and cool before filling the feeders and hanging them up outside.
TIPS: Use plain table sugar and nothing else. Don't use Jell-O, or honey, or brown sugar, or anything else. And you don't need to color your mixture red with red food coloring, either. I've heard lots of rumors about food coloring making their bills soft or causing tumors and while I have no idea if any of that is true . . . I do know that it's not necessary for the liquid to be red. They like it just the same when it's clear. And, it's much easier to see if your nectar concoction gets cloudy if the liquid inside is clear.
I don't fill the feeders to the top, I put in as much as I think the hummingbirds may go through in the next few days (based on how things have been going). And I always have some extra to store in the fridge (in a mason jar or old wine carafe). You can keep the sugar-water mixture in the fridge for up to two weeks, which allows you to do a quick replacement easily next time.
Finding The Perfect Hummingbird Feeders
I have gone through a lot of hummingbird feeders and still prefer the tough plastic ones that are easy to maintain, easy to clean, and easy to see through to the food from a distance. I've purchased several from WalMart for under $10 over the years, and they serve the purpose just fine. But my favorite place to shop for hummingbird feeders is actually online, from Duncraft.
Why Duncraft? Because they've been around a long time a long time and I find they have some of the best (affordable) choices for hummingbird feeders. The company actually got its start in 1952 when Gil Dunn invented a wooden tray that clipped onto windowsills for attracting wild birds up close.
The company is still family owned, still has a catalog, and has been selling online since 1996. They've got a huge variety of hummingbird feeders, from the plastic practicals to the fancy glass, and everything in between. You can also pick up accessories like the cleaning brush sets and replacement pieces like the little yellow bee guards.


Free Shipping on Bird Feeders with Code YGP6107 at Duncraft – offer ends June 30th, 2010.
No matter what kind of feeder you buy, or where you buy it from, make sure that it'll hold enough of your sugar water to keep up with the number of birds you've got coming around. I tend to spend a smaller amount of money and replace them every year or two because they're out in the weather and they fade and age.
You'll also want to be sure your hummingbird feeder is easy to clean because it needs to be cleaned quite frequently! Depending on the weather, you should clean your hummingbird feeder every 2 or 3 days (or every 5 to 7 days in cooler weather).
Keeping Food Available In A Clean Feeder
Sugar-water nectar spoils pretty quickly outside in the heat. Though it lasts up to 2 weeks in the refrigerator, be prepared to make a visual check once a day in hot weather. During the heat of the summer, you'll probably need to give it a quick clean and food replacement every other day. If the sugar-water has a cloudy appearance, it's past time to take it down.
The best way to clean a hummingbird feeder is to take it down, pour any remaining sugar-water down the sink, take the feeder apart, and then soak all of the pieces in mild bleach water. Obviously, don't over-bleach the feeder! You'll want to use about a cup of bleach in 10 cups of water. Give it a quick soak, scrub the parts, rinse thoroughly and set in the drainer to dry. Then it's ready to refill (even before it dries, it's okay to refill the feeder).
TIPS: If you don't like using bleach, I've also used vinegar water. And I read somewhere that you can actually use vinegar and uncooked rice to effectively clean out the inside of part of a feeder where the nectar is kept. Just be sure to thoroughly rinse the feeder if you try that.
I use a bottle brush when I'm cleaning hummingbird feeders, but I've found that a toothbrush is great for helping to clean the little holes where the hummingbirds stick their beak through. A toothpick also comes in handy at times.
I rotate my feeders, taking one down to immediately replace it with a freshly filled feeder. That gives me plenty of time to get the old feeder cleaned and ready for it's turn outdoors.
I hope you decide to take on the responsibility of housing a hummingbird feeder this year. Leave a comment if you have any tips or a picture to share!