It's a gorgeous day outside and nothing sounds better than enjoying a lazy day next to the crashing waves and your best friend – your dog! While it sounds like all fun and games, it's important to take into account a whole list of things before you go. That way, nothing will get in the way of having the perfect beach getaway.
We've compiled a list of the top tips for traveling with your pet to the beach. So pack your sunscreen, grab your umbrella, and get ready for the best day ever.
Safety First
This may come as no surprise, but safety should be your number one priority when taking your pup to the beach – with "fun" being a close second. That is why safety is the biggest section on our list. To ensure everyone gets home safe and sound after a day in the sun, here are some good tips to consider:
Does your dog swim? If you don't know, a good way to test it out at home would be with a kiddy pool. However, whether they can swim or not, we strongly urge you to get a doggy life vest. It is not only safe but it also lets your dog have more fun in the water before getting tired too quickly. Win win!
Go on a day with calm waves and not too many people. Now, all dogs are different – some are more social and others are more timid – but if it's your dog's first time having a day at the beach, it's better to ease into it in a more controlled setting.
Go on a day that's not scorching hot. If the weather is too hot for you, it's also too hot for your dog. It's better to avoid the beach on those days and simply go another time.
Go to an area that is clean. For example, going to a beach that's right next to a fishing pier may not be the best idea because you will likely find fish hooks or other sharp objects in the sand or water.
Be aware of leash laws. Every beach varies.
Never leave your dog unattended. If you're the kind of person who likes to be immersed in relaxation and taking naps in the summer breeze, bringing your dog is not a good idea.
Always have a collar on your dog at all times.
Do not bring puppies under four months. They most likely don't have all of their vaccinations yet and are more susceptible to injury and chance of overheating.
Hydrate, Hydrate, Hydrate!
Consider purchasing a collapsible bowl for your pet. It is great for the beach, airports, long walks, etc. While drinking straight from a water bottle is always an option, a collapsible bowl is a lot more comfortable for you dog and can actually increase the amount of water they drink. For a beach trip, keep water in an ice-filled cooler to make sure it stays cold. Also, be alert if your dog is showing signs of dehydration. These signs include, but are not limited to, excessive panting, excessive drooling, coordination problems, vomiting, or collapse. It is imperative to always monitor your pup.
Snacks
Who doesn't enjoy snacks at the beach? A day of playing in the water and being in the sun can be very exhausting, so make sure to pack some snacks along with your water. Be sure to also bring an appropriate amount depending on how long you're staying.
Provide Shade!
Lugging around a big umbrella or even a tent can be a nuisance, but it is sure worth it. Both you and your pet will enjoy having a place to get away from direct sunlight, will decrease your chances of getting sunburn or even a heat stroke.
Doggy Sunscreen
Just like humans, dogs need sunscreen too! Consult with your vet to make sure the brand you choose is safe. Apply the sunscreen in any place that gets direct sunlight – such as ears, nose, groin, and back leg areas.
Clean Up After Your Pup
Always try to carry doggy waste bags when planning a day at the beach. Having a big gallon-sized zip-lock bag can also help if there are no trash cans nearby. It will help conceal the smell until you can throw it out. Another thing to consider is removing sand from your dog's face. Bring a water bottle and perhaps a soft rag that you can soak in water and gently wipe off sand from their eyes and nose area.
Toys!
What's a beach day without beach toys? Stock up on fun toys that float like mini footballs or frisbees. Stray away from toys that soak up a lot of water or attract sand like tennis balls.
Aftermath
After a safe and fun day at the beach with your best friend, give your pup a bath when you get home to get rid of any sand and itchy salt water that has dried up. If a full-on shower is not in the books, consider brushing them off or even using an extra water bottle to hit the sensitive spots and places that have most sand buildup.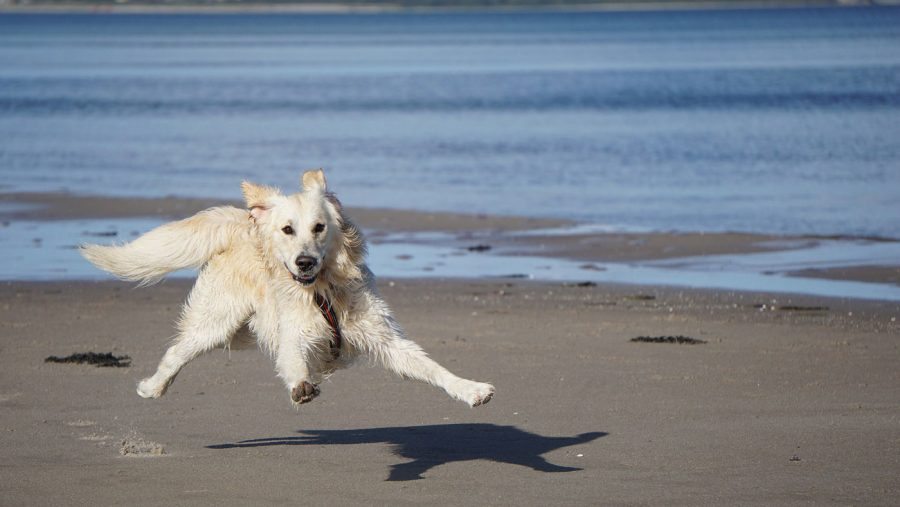 Having fun may be the first thing that comes to mind when thinking about a day at the beach with your pet, but once the safety precautions are acknowledged and put into practice, fun is the only thing you'll have. Good luck!